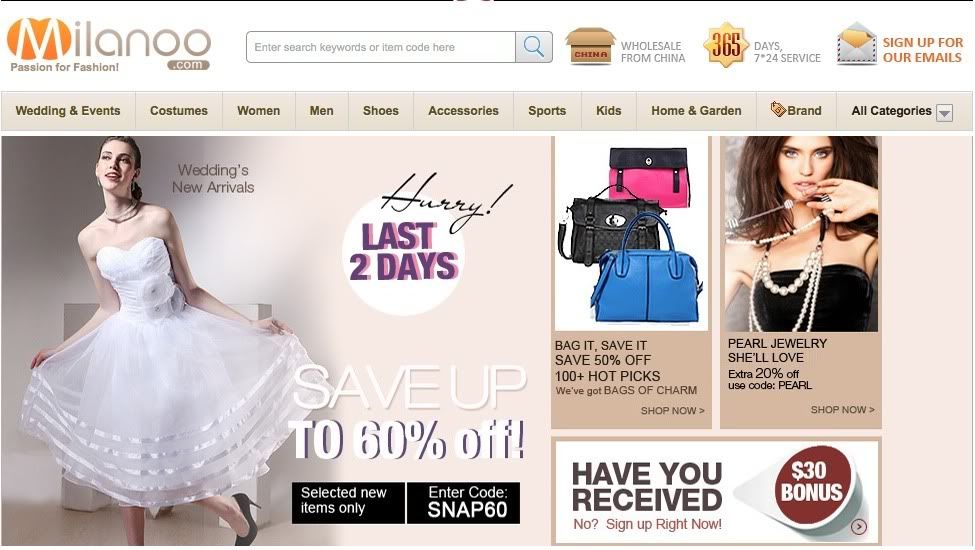 Milanoo.com's tagline "Passion For Fashion" is a quick summary on what their web site is all about. Offering a full line of clothing apparel for women, men and children ranging from Wedding Dresses to halloween costumes, seasonal clothes, lingerie and shoes. They even offer home items from linens, paintings, home decors and pet supplies.
When you visit the site, the homepage will show their latest deals, starting with discounts on sale items on the daily madness offerings. They also have a spotlight tab, where they highlight a specific item from different categories. All their items are given sufficient coverage in their homepage, giving a visitor a full summary on what to expect to see on the whole site. One can even choose which language she would like to view the web site in – English, French and Spanish to name a few.
What I like about the site is that I get to have a full view on what they have to offer on the homepage without making their page look cluttered. The site is very user-friendly, with site categories automatically opening to a new window and sub-categorized accordingly. Product descriptions are detailed, with most details included in the product title already. All images can be opened up in a bigger image allowing customers to view its details up close. When ordering, you are prompted to select a color and size before allowing you to add an item in your bag. You can also opt to add the item in your favorites while browsing. You can pay by credit or Paypal and choose to have an estimate on how much shipping can cost in the "Estimate My Shipping" link and choose the country you wish to ship to.
If you need any help with your orders or have inquiries, there will be customer representatives online willing to answer your questions and help you out via chat. You can find someone who is available on the right topmost portion of the site, right beside the "My Bag" icon.
They simply state why you should shop with them:
1. They offer a 7-day policy for returned merchandise
2. They have a 15-day policy for exchanged items.
3. You can conveniently pay by credit card or Paypal.
4. You are guaranteed fast shipping and delivery via EMS, UPS, DHL and TNT.
Their help section is already pretty extensive and covers a lot of areas customer usually have a lot of questions of too. Milanoo.com is a shopping web site that really makes it easier for their customers to shop in their pajamas!